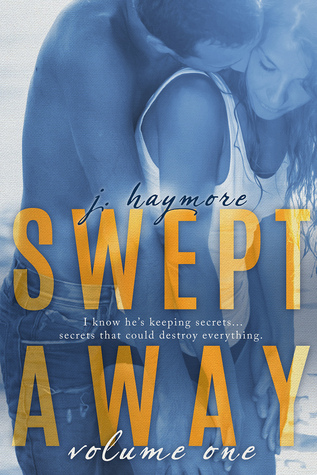 Blurb:
He is everywhere. He surrounds me, wends his way under my skin. I can't escape his strength, his intensity, his presence.

I'm trapped.

There's nowhere to run.

Nowhere to hide.

But even if I could escape... would I be strong enough to leave?
I needed something — something big — to get myself out of the rut I'd fallen into after the car accident that killed my sister. This sailing trip was meant only to mark a new chapter in my life. Until Ethan Williams stepped on board.
Ethan radiated confidence. His darkly handsome good looks and ocean-blue eyes mesmerized me. But it was the way he looked at me that drew me in. He wasn't looking at my past or at my scars, but the real me behind all that baggage I was trying so hard to leave behind.
But Ethan had secrets—dark, dangerous secrets. I was trapped in the middle of the ocean in a tangle of lies, sex, and violence. The problem was, I was happy to be trapped forever...if it meant I could have him.
Warning: Swept Away is not for people under 18.
Tonya's Review:   4 Stars
This is a great start to the 4 part serial. I really liked Tara. She has been through so much and is finally starting to get her life back. Death of her parents, when she was young. A car accident with her sister, and her sister didn't make it. Almost being shot. I think most people would have done what she did, and just become a hermit and have panic attacks. When the chance to sail to Hawaii comes up, she jumps on it. Just maybe that will help her jumpstart her life again. Her best friend, Kyle, is going as well.
Ethan, oh my. Hmm what to say about him. He's hiding things, but he wants Tara. He knows he shouldn't, but doesn't say much more than that about why it's a bad idea.
Does end a cliffhanger and a twist! Will be starting part 2 now!
Links:
Amazon
Goodreads
Blurb:
Ethan Williams is the worst man for me. The dangerous choice. The choice most likely to hurt me. Ethan will never give me the long-term happiness I yearn for.
Of course I choose him. He's the bigger risk. The man I know very little about. The man who's almost guaranteed me that he'll do nothing but hurt me. That's the one I want.
What the hell is wrong with me?
I was falling in love with Ethan—even though he was going to walk away from me forever in less than three weeks. But I wasn't going to think about that. I'd enjoy this time we had together on the open ocean, then, once we got to Hawaii, I'd let him go. No regrets.
But Ethan's secrets were deeper and darker than I could have ever imagined. I'd put my trust into someone who gave me almost nothing of himself.
And if I wasn't careful, his secrets could kill me.
Warning: Swept Away is a 4-part serial. This story is messy and twisted and very, very sexy. It is not for people under 18
Tonya's Review: 5 Stars
This is the 2nd part of this serial. And wow, I am completely hooked and so happy that I have the third part already. Secrets do start coming out in this part. Between someone trying to kill Tara, Kyle and both Ethan have things to reveal to her. I figured Kyle's out, but boy, I wasn't expecting Ethan's at all. I need to start on the 3rd part ASAP to find out what happens next. I'm not usually big on serials, but this one is great.

The book is fast paced, there's no lull in the action or mystery at all. I love it!
Links
Amazon
Goodreads
Blurb
It's yet another bomb. The past week has been full of them, exploding when least suspected. This one, though…this one shatters me. Like all the other bombs have combined into one nuclear missile, and Ethan has just rammed it into my chest.
Survival was what should've been foremost on my mind. But Ethan's lies consumed me instead. I trusted him, and the devastation of his betrayal cut so deep, I was surprised I wasn't bleeding.
Warning: Swept Away is a 4-part serial. This story is messy and twisted and very, very sexy. It is not for people under 18
Tonya's Review:  5 stars
OMG, I thought I had this serial figured out, but boy was I wrong! I kind of figured Justine was behind it somehow, but I just wasn't sure how. I know I haven't mentioned her in any of my other reviews, I hate posting any type of spoilers. I still was really hoping she would forgive Ethan. But after the end of this book, I want to flippin slap him silly! There are twists and turns in this 3rd part, just like the other 2 parts. I can't wait to get the 4th part and see how this all ends. I know how I hope it will, but we will see. I doubt it will happen the way I think it will. This author has kept me on my toes and has surprised me so many times by going in a completely unexpected direction
Preorder Links (Releases November 17th)
Amazon
Goodreads